VWBPE 2022
Welcome to the Main Event!
Phoenix Rising
In every culture, from China in the east to the Indigenous cultures in the west, the phoenix as a symbol of hope and renewal is ubiquitous across the ages. Whether it is referred to as Feng Huang, Garuda, Ho-Oo, Bennu or the Quetzal bird, in every case the phoenix ushers in an era of prosperity and transformation that goes beyond the individual to encompass our home and surroundings.
The past two years have represented a global case study in real time of the merits and limitations of virtual education: what works, and what doesn't. Educators have immersed themselves in online learning methodologies that have been mostly talked about but never implemented on a wide scale until recently. There is now a plethora of real-world evidence supporting the practical application of teaching virtually that we have never truly had access to until now.
Like the newly reborn phoenix arising from the ashes of its previous life, virtual education is also experiencing a renaissance of abundance and transformation. Whether it be fully immersive or simple video conferencing, the practical application of tools and techniques over the past two years represents a wealth of inspiration for connecting teachers and students in ways that are comprehensive, progressive, and meaningful.
The 15th annual Virtual Worlds Best Practices in Education Conference, beginning on Thursday, March 31st, will be an online distributed conference happening over three days in multiple virtual spaces. This conference will focus on the use of immersive virtual environments for educational purposes including virtual and augmented reality. We thank our sponsors for helping us continue to make this conference open and free.
VWBPE provides educational and networking opportunities that are relevant to educational curriculum development utilizing virtual environments and "best practices". These include:
helping to build community through extension of learning best practices to practical application of those ideas and techniques;
providing networking opportunities for educators and the communities that help support education; and
providing access to current innovations, trends, ideas, case studies, and other best practices for educators and the communities that help support education.
This year's keynote speakers are Oksana Levytska and Dr. Randall Sadler. We also have invited speakers we will feature in the Above the Book series: Patch Linden from Linden Lab, the developers of Second Life®; Maria Korolov, publisher of Hypergrid Business; and Lyr Lobo, extended reality (XR) faculty champion at Parker University in Dallas, Texas and 2017 VWBPE Thinkerer Award honoree.
Newcomers to Second Life are Welcome
If you are new to Second Life, the Rockcliffe Registration Portal is open for people to register new Second Life® avatars and find out more about the VWBPE conference in-world. Go to the Rockcliffe Registration Portal to get started at this educator-friendly newcomers' region in Second Life®.
Attend or Watch
The full conference program is online here. You can also view some of the presentations live on YouTube. All of the conference events will be in Second Life® this year, and the locations are included in the program listings. When you click on a conference event and click "Add to Calendar", you can add the event to your own calendar (Google and more).
Not to be Missed: Creatures of Myth Part III
The Creatures of Myth Trilogy conference game is a much enjoyed feature of the conference which began two years ago with Part I, Discovery and Adventure ("Do you hear the clamor of the stars?") and continued last year with part 2, When Darkness Falls ("When all was chaos, the only existence was darkness. And so Nyx rose in mist…"). The culmination of the trilogy is part 3, The Rise of the Guardian ("The Dark Gemini are here. Only one must live. You must find the Black Phoenix and feed it.)" Don't miss this experience – take a friend with you on this intriguing quest!
Don't forget to register for the VWBPE conference! We'll keep you updated on conference news, and it's easy and quick: http://vwb.pe/register.
Join us at the 15th Annual Virtual Worlds Best Practices in Education Conference. Together, we'll inspire each other with transformative examples toward a global online learning environment that incorporates our hard-learned lessons in kinder, more effective ways.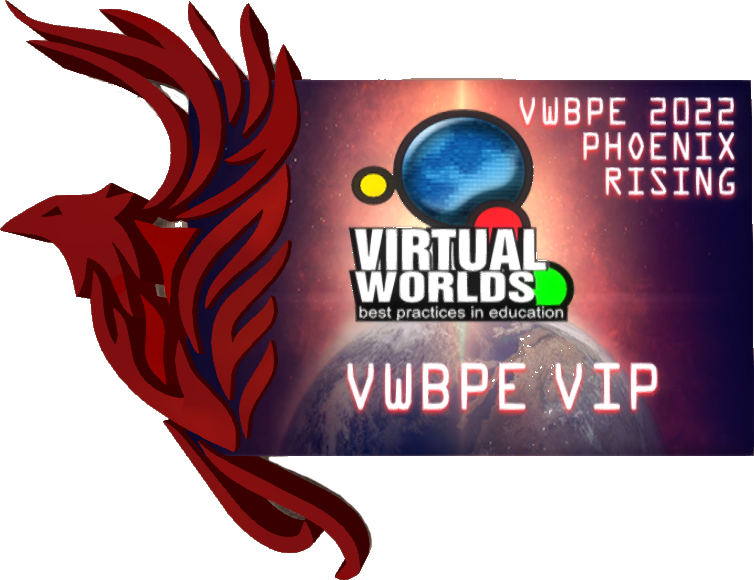 Virtual Worlds Best Practices in Education
* Phoenix Rising *
March 31 to April 2, 2022
* Play * Explore * Engage * Immerse * Learn *