VWBPE 2022:
PHOENIX RISING
Creatures of Myth: Part III
Creatures of Myth: The Rise of the Guardian
"The dark gemini are here. Only one must live.
You must find the black phoenix and feed it."
In this third installment of the Pyxis trilogy, we conclude the story of the creatures of myth by righting a wrong. In a battle for balance of the dark and the light, two brothers stand against each other.
This adventure game hunt brings together the backstories of all three installments in the trilogy, so that as you play, the story becomes clear.
Go to the Gateway Pyxis and find the quest giver with part 3 of the game: The Rise of the Guardian. The first two games are also still available to play.
The purpose of the game is to find the sparks of life. In order to see your progress and earn a prize at the end, you must wear the game HUD.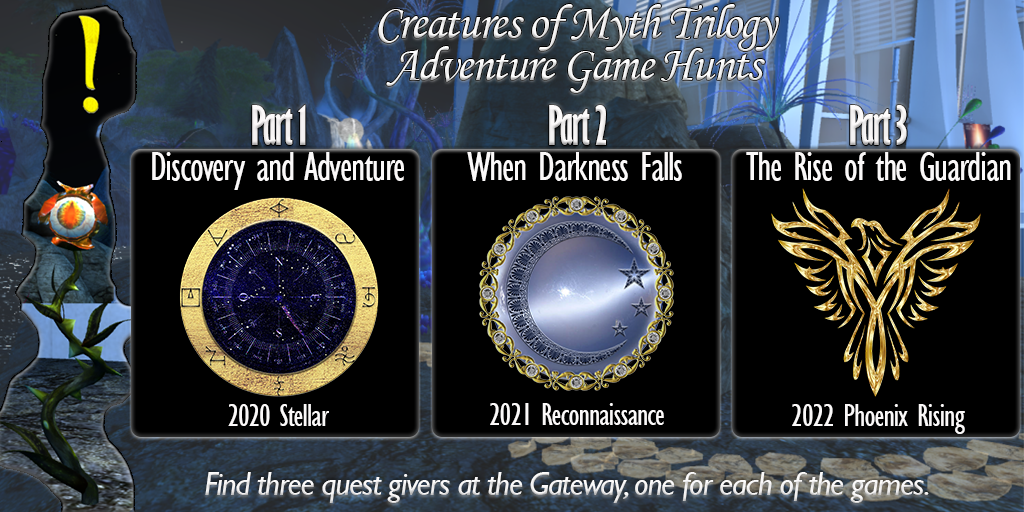 "The guardian's fate is in your hands.
Draw on the power of the phoenix to succeed."