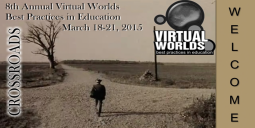 Over the past few weeks we have released announcements of our keynotes and featured speakers, Quadrivium discussions, and featured panels. Ebbe Altberg, CEO of Linden Lab, will open the conference today at 1:00 PM PDT. If you're unable to attend a keynote address, featured speaker or featured panel, visit our Watch page to view these presentations.
With "Crossroads" as the theme this year, we are pleased to host a gathering of such a broad array of session offerings. They will engage, intrigue, and perhaps inspire us to come away with a renewed sense of purpose for our work in the field of education. Even those of us who are not educators will feel the impact of the content at this conference.
We invite you to join us at the VWBPE Crossroads, which is now open to the public. We have a complete calendar of all happenings at the conference, from keynote addresses to hands-on workshops to panels and discussions. Interspersed throughout the four days of the event, you will also find opportunities to relax, have fun, watch machinima and socialise.