VWBPE 2023: Uncommon Realities
March 23-25, 2023
International Conference on Education in Virtual and Augmented Reality
Come celebrate new possibilities with art and music for 2023. The VWBPE Social Committee invites you to join us, at one (or both!) of two times, on Thursday, January 12, 2023 for our Renaissance Faire networking and fundraising event.
The Renaissance was a period of renewal and light, full of creative artistic, political, and economic "rebirths" after the doubt and darkness of the Middle Ages. Come celebrate our own creative and artistic connections with dancing and networking.
If you're looking for the perfect outfit, fashions between the 14th and the 17th century full of ornamental flourishes will be perfect! Or come as you are. We've missed you and look forward to visiting again.
Your continuing support for the conference means the VWBPE can bring together education professionals who will share their own "rebirths" in learning and discovery of the possibilities of virtual worlds in education.
DJ Coz OKelly will be live with a selection of courtly tunes. All donations for the VWBPE 2023 Uncommon Realities Conference are welcome. Let's bring in the new year with a dance around the May Pole full of springtime hope!
Click to view more photos!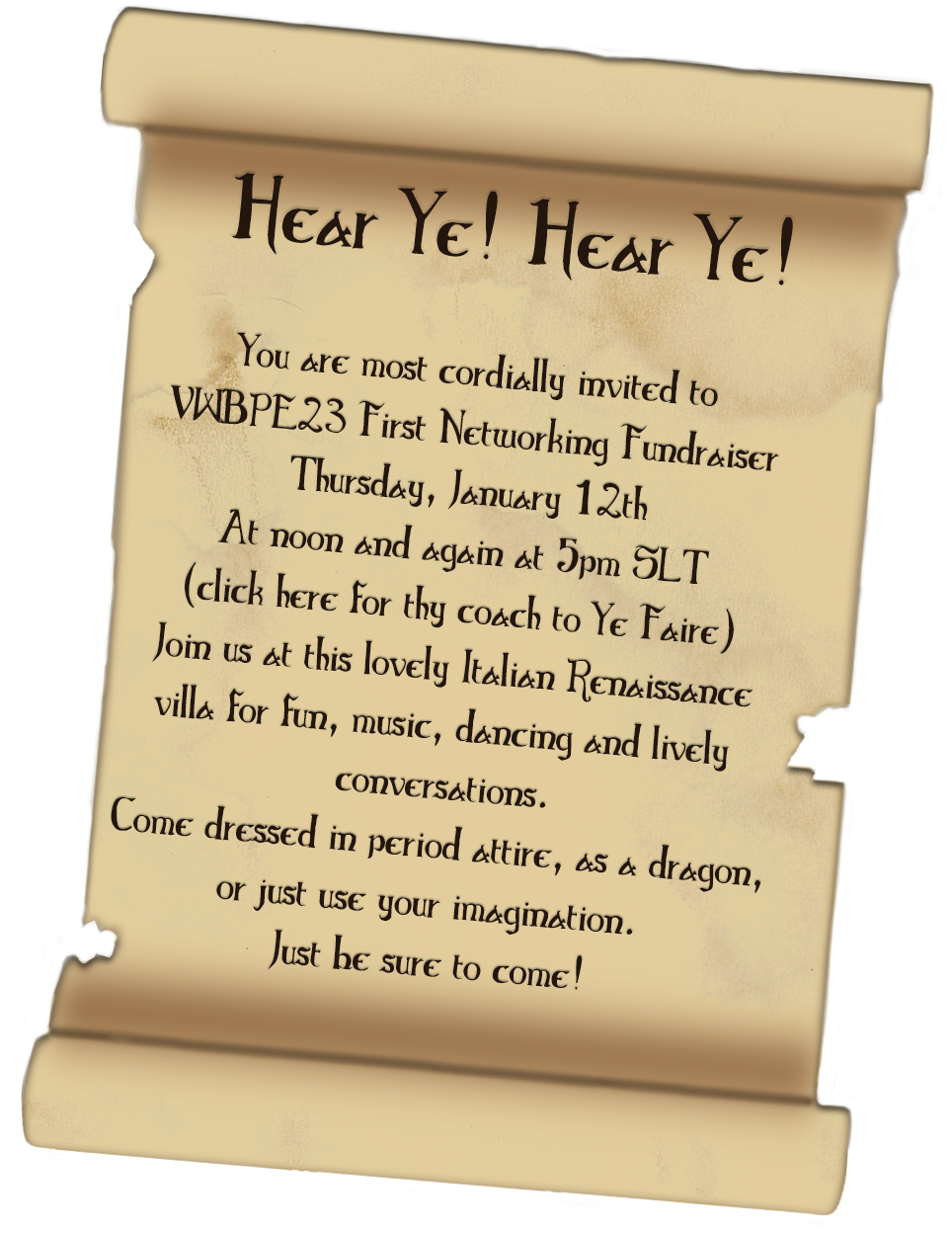 Review Exhibit Guidelines
Submit Your Exhibit Proposal
Review Immersive Experiences Guidelines
Submit Your Immersive Experience Proposal
Review Presentation Guidelines
Submit Your Presentation Proposal
Thinkerer Award Nomination
Become a VWBPE 2023 Sponsor
IMPORTANT DATES
01 December 2022: Thinkerer Award Nominations Open
09 January 2023: Presentation Proposals Deadline
31 January 2023: Thinkerer Award Nominations Close
13 February 2023: Exhibit Proposals Deadline
13 February 2023: Immersive Experiences Proposals Deadline
23 March 2023: VWBPE 2023 Conference Opens
* Play * Explore * Engage * Immerse * Learn *