In 2014, the Virtual Worlds Best Practices in Education Organizational Committee instituted a new personal achievement award to recognize an individual who has provided outstanding service to both the field of education and the virtual world community at large.
Past recipients include Barbara Truman/Delightful Doowangle, Valerie Hill/Valibrarian, Cynthia Calogne / Lyr Lobo, Andrew Wheelock / Spiff Whitfield, Alice Kreuger / Gentle Heron, and of course the award name sake, Selby Evans – our Thinkerer. These six were all around the conference over the past 3 days — generously sharing and supporting, and we hope you were able to attend the Above the Book with Mal Burns & Gentle earlier today. They are all true collaborators and leaders. Please give them a round of applause.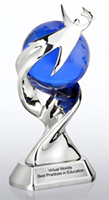 The Thinkerer Award is presented to an individual whose deeds and actions have shown a consistent selfless service towards the promotion of learning, community, educational practices, and who exemplifies the spirit of cooperative development within immersive environments.
Recipients of this award are not simply outstanding professionals in their field. Award recipients must characterize transformational leadership qualities to:
envision and guide change;
enhance the motivation, morale, and performance of both peers and pupils;
promote best practices and continuous improvement; and
inspire others through their words and actions.
One such individual, Renne Emiko Brock, known across the metaverse as Zinnia Zauber, is our 2020 Thinkerer Award recipient.
Renne is an artist, instructor, and superhero empowering people to be their best virtual and tangible self by advancing excellence, exceptional pursuits, and individualism through creative expression and encouraging instruction with inspired results.
Renne has actively taught college level fine art and digital media since 1997 and started teaching virtual world use in 2008 at Peninsula College. Her approach to virtual world education is much like her, fast, passionate, custom branded, and all about the shoes. She establishes agency immediately with learners by articulating aspired identity and creating authentic avatars with focused pursuits and ownership of their purpose.
Focused on color communication and the evolution of intelligence, role models, and superheroes, Renne earned her Bachelors of Science in Art at Lewis & Clark College and her Masters of Fine Arts in Visual Art at Vermont College of Fine Arts at Norwich University.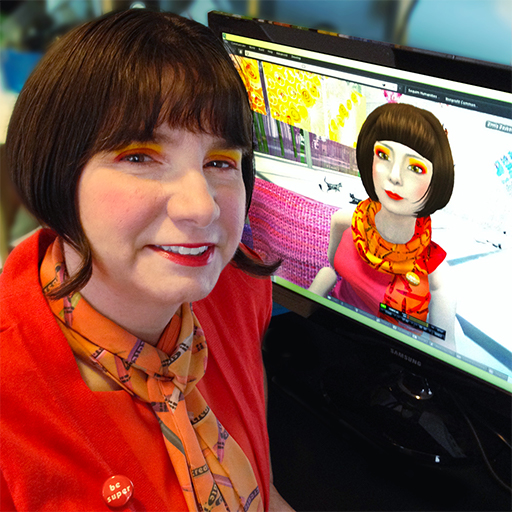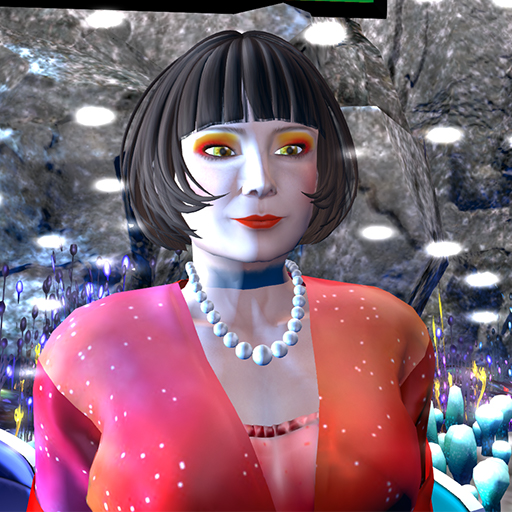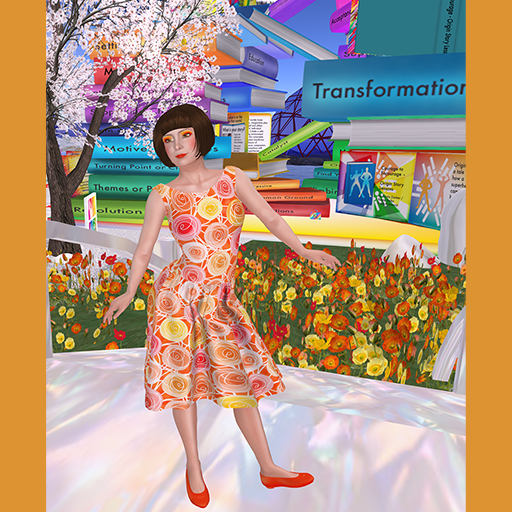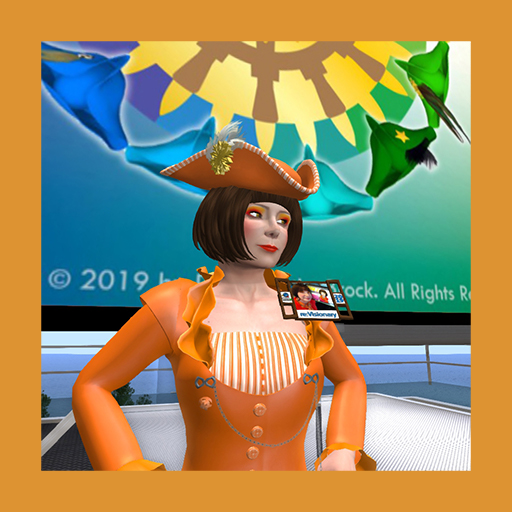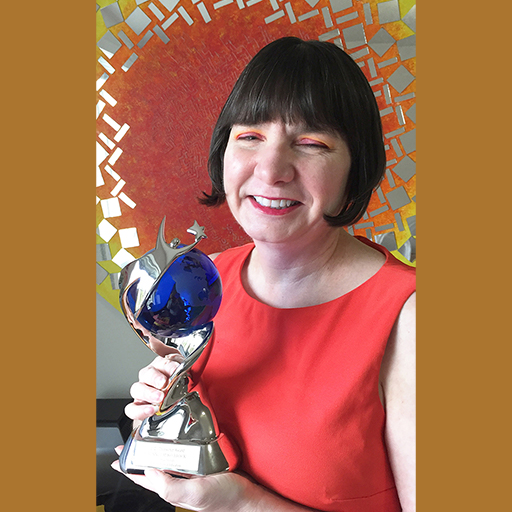 In 2009, she graduated from the first pioneering class of the University of Washington Certificate in Virtual Worlds Program and returned as a Lecturer and Mentor. Virtual worlds provided a perfect medium for her research, art practice, and educational installations.
As an advocate, Renne seizes every opportunity to bring virtual world education and collaboration by presenting at physical conferences, college and school events, art museums and galleries, civic centers, and standing in line at Costco. Her local newspapers often print her avatar portrait in articles, in full color of course! She is a cheerleader who invites people to join us for her many conference presentations online as well.
Unified by education, nonprofit pursuits, enterprise, and art, she teaches to lead by example. Building and fostering community with unity inworld and out have giving her the opportunity to connect and enhance inclusive education and active participation in the arts and sciences. With various wonderful teammates, Renne hosts and develops community activities as Board Co-Chair of the Nonprofit Commons, faculty at Peninsula College, University of Washington Virtual Worlds Program, Virtual Worlds MOOC, Rockcliffe University Consortium, Virtual Ability, Inc., Brain Energy Support Team, Virtual Community Library, and many more. Through virtual networking, fundraising, exhibition and education creation, and mentorship, she facilitates partnerships to utilize superpowers and bring out the best in people.
She says this about her art practice which relates to her work in virtual worlds, "I love looking forward to something. I love potential. I teach art to facilitate innovation and exploration. Artistry creates empowerment by self-expression and opportunities to develop responsibility, confidence, problem-solving skills, independent research, and respect. The intent of my artwork is to demonstrate the ability to oscillate between existing as one of a kind, as well as, one of a greater assemblage. To be unique, as well as, united. The work is a narrative of my convictions, conduct, and courage for acceptance, inclusion, and identity."
Renne believes we are all action-packed superheroes. Education and collaboration reveal your superpowers and provide opportunities to demonstrate your ability and enthusiasm which is inspiring.
It is for all these reasons, and more, that the VWBPE Organizational Committee proudly confirms Renne Emiko Brock, our Zinnia Zauber, as our 2020 Thinkerer Award recipient.
"Renne is a tireless campaigner for using virtual worlds for learning, to connect and to collaborate.
She is a Superhero for us all."