What Is TeamSpeak?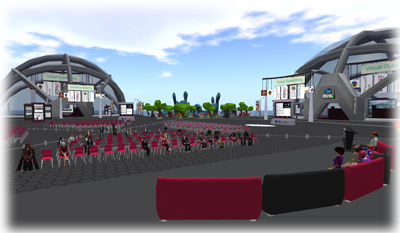 TeamSpeak is a proprietary voice-over-Internet Protocol (VoIP) software that allows computer users to speak on a chat channel with fellow computer users, much like a telephone conference call. A TeamSpeak user will often wear a headset with an integrated microphone.
Teamspeak allows up to 400 users to be able to audio conference in virtual environments that either do not have an integrated voice component, or where there is a limit to the number of concurrent users that can effectively communicate with each other. Teamspeak allows for both public and private audio chat rooms, and has crystal clear sound (depending on your bandwidth and service provider).
Download TeamSpeak
Download from TeamSpeak Downloads Page.
Notes:
Download the appropriate CLIENT software for your operating system type.
If asked, you do not need the Overlay option. (It does not matter whether you download from "Net4Players" or "gamed!de"; those are mirror servers for the download.)
First Time Set-up
Settings > Set-up Wizard
Step 1 – Choose a Nickname (your OpenSim Avatar name)
Step 2 – Microphone Settings
Use Push-to-Talk
HotKey F9 is a standard default in the gaming community
Step 3 – Test Microphone
Press the Begin Test Button
Press F9 and start talking, Release to go back on mute
Press Stop Test when finished
Step 4 – Useful Key Bindings
Speaker Mute – Not required unless you skipped Step 2
Step 5 – Sound Pack
Step 6 – Post Set-up Options
Check Open Bookmarks
Uncheck Open Public Server List
Uncheck Rent your own Team Speak Server
Click Finish

Bookmarks
Step 1 – Click the Bookmarks menu
Step 2 – Select Add Bookmark
Label: VWBPE
Address: vwbpe.teamspeak3.com:4881
Nickname: This should already be filled in for you
Password: Blank
Click OK
Connecting to TeamSpeak
Go to Bookmarks
Select VWBPE from the List
System should connect you automatically
There are 6 channels set-up for voice in Avacon Grid.
To change channels simply double click on the channel name and that that will move your nameplate from the Lobby to whichever channel you want to go to.
VWBPE's TeamSpeak Channels
Lobby

This is the default group you will find yourself in. From here you can jump to other channels except the VWBPE Office channel which is reserved for admins.

VWBPE Main Stage (Rockcliffe Library)

Presenters on the main stage will stream on this channel from the Rockcliffe Library Region in Avacon Grid.

VWBPE Social (Meeting 1)

A common hangout which will broadcast music and have other social engagement during the conference from the Meeting 1 Region in Avacon Grid
Other Channels

There are other channels and breakout rooms which you are welcome to use for small group meetings. Contact one of the channel operators if you require special access or assistance.
NOTE: In AvaCon Grid, if you are a presenter or broadcast camera person, turn off the Text to Speech options.
FAQ
Using Text Chat
At the bottom of the screen you will see two chat channel windows. One says "VWBPE Conference 2015," the other should be named the channel your profile is currently in.
To use text chat, click on the tab that corresponds to the channel that you are in.
Type chat where it indicates "Enter Chat Message … "
Your message will be sent to all members of the channel.
Note that only the server admins can send chat messages on the main "VWBPE Conference 2015" Channel.
Mic / Headset Settings
If sound is not working correctly for you for some reason, it is likely because TeamSpeak has selected the wrong setting for your computer.
To manually assign playback and recording capture devices go to:
Settings > Options > Playback (to adjust speakers / headphone settings), or
Settings > Options > Capture (to adjust microphone settings)
Please do not test these settings in any of the main channels. You can test your settings out in the Main Lobby channel. If no one is there to help either, type a chat message (at the bottom of the screen) in one of the channels where you see either a channel moderator (little icon with a C on it) or a server moderator (little icon with an S on it).
TTS Notifications
Text to Speech Notifications can be turned off or on by going to:
Settings > Options > Notifications
Change Sound Pack to : Sounds Deactivated
Change While Output Muted: Play no sounds
Note that this will require that you close and relaunch the TeamSpeak software for the change to take effect (program bug).
Resource Links
These links at the TeamSpeak website can provide additional help for you.
NOTE FOR BROADCAST CAMERA OPERATORS AND PRESENTERS: WE ARE HIGHLY RECOMMENDING THAT YOU SET ALL NOTIFICATIONS TO "SOUNDS DEACTIVATED" AS THIS WILL DISTRACT FROM THE PRESENTATION AND / OR FILMING PROCESS.