In 2014, the Virtual Worlds Best Practices in Education Organizational Committee instituted a new personal achievement award to recognize an individual who has provided outstanding service to both the field of education and the virtual world community at large.
The THINKERER AWARD is presented to an individual whose deeds and actions have shown a consistent selfless service towards the promotion of learning, community, educational practices, and who exemplifies the spirit of cooperative development within immersive environments.
Recipients of this award are not simply outstanding professionals in their field. Award recipients must characterize transformational leadership qualities to:
envision and guide change;
enhance the motivation, morale, and performance of both peers and pupils;
promote best practices and continuous improvement; and
inspire others through their words and actions.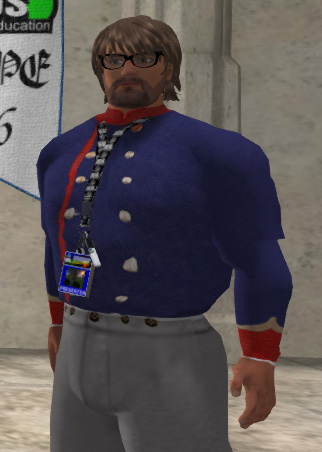 Andrew Wheelock has been an educator for 22 years, working primarily at the elementary school level, and is currently a technology integrator. An imaginative innovator, his LinkedIn profile says, "Welcome to the Department of Wild and Crazy Ideas!"
As Spiff Whitfield, he joined Second Life in 2007. He is dedicated to the promotion of virtual environments to promote learning and excellence in education. In 2008, Spiff started the group, Virtual Pioneers. This group continues to be successful, with meetings each week for historical tours of SL sims or informal discussions. Part of the success of this group is the collaborative atmosphere, which Spiff promotes by encouraging everyone to be active participants. Spiff also, with Scott Merrick, started the ISTE Virtual Environments Network (formerly SIG-VE), which they continue to be active in.
In 2011 Andy created the Islands of Enlightenment – where he is known as Professor Illuminati. This is an OpenSim immersive learning environment available to educators. He worked with a team of educators and historians to create a model build of the Anne Frank annex, providing a safe environment where students can interact using avatars to fully experience historical content. "A virtual environment enables students to learn in a creative way that promotes higher order thinking," he says on the project website. This project, along with his Heir of the King medieval history project, has been featured in several of Andy's conference presentations, keynotes, and professional articles, helping to promote the use of virtual worlds in education.
Andy has willingly mentored many educators and assisted them with the immersive use of virtual environments. This includes upcoming ISTE Virtual Environments Network chair Mary Howard; Beth O'Connell, who does communications for many virtual worlds education organizations; and educators in his district who learn how to use the Islands of Enlightenment.
Dedicated to the value of virtual environments both for professional development for educators and as valuable learning experiences for young people, Andy selflessly spends countless hours each week working on these projects and networking with people in all of the virtual environments of which he is a part. He is responsible in large part for the inclusion of virtual environments in ISTE, the international edtech organization. Andy Wheelock exemplifies a strong commitment to the promotion and development of best practices in using virtual environments in education.
It is for all these reasons, and more, that the VWBPE Organizational Committee proudly confirms Andrew Wheelock, our Spiff Whitfield, as the VWBPE 2016 Thinkerer Award recipient.