The Quill and Quarrel Theatre production company will be presenting their rendition of Margaret Edson's WIT at the VWBPE Quadrivium on Friday April 11th at 8pm PDT.
WIT Synopsis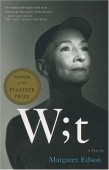 Winner of the 1999 Pulitzer Prize for Drama, the New York Drama Critics Circle Award, the Drama Desk Award, the Outer Critics Circle Award, the Lucille Lortel Award, and the Oppenheimer Award Margaret Edson's powerfully imagined Pulitzer Prize–winning play examines what makes life worth living through her exploration of one of existence's unifying experiences—mortality—while she also probes the vital importance of human relationships. What we as her audience take away from this remarkable drama is a keener sense that, while death is real and unavoidable, our lives are ours to cherish or throw away—a lesson that can be both uplifting and redemptive. As the playwright herself puts it, "The play is not about doctors or even about cancer. It's about kindness, but it shows arrogance. It's about compassion, but it shows insensitivity." This production is a MILESTONE in the ancient art of live theater. So far as we know this is the VERY FIRST time a Broadway show has been licensed for inworld production! The Quill & Quarrel exists to PULL what is a very very old form….into the 21st century and beyond. Just as Second Life expands our community around the world the Q&Q makes a GLOBAL theater a reality. Shakespeare and HIS 'Globe Theater'….would be proud! Q&Q will be presenting text, voice [via the sim radio stream] and live action.
Quill and Quarrel Theatre Company
Since 2012 Q&Q Theatre Company has used theatre to entertain, prompt discussion, and foster creativity in Second Life. They were the first troupes to be approved by the Dramtists Play Service to perform a Broadway show specifically licensed for inworld production. The ongoing mission of the company is to write/adapt/commission a repertoire from both original and other sources and to lead the way in improving skills, materials, and technologies related to theatre performances in virtual settings. Q&Q Theatre is run by The Rose (Directress), Jacobn Gatsby (technical director), and Scott Grildrig (technical consultant).
The Troupe
Jara Lowell
Kitala Foxclaw
Jacob Gatsby
Hawksmist
Bynx Shamrock
Aisling
MD Convair
Trixy Vhargon
basona Melody
Angel Convair
Dominque Reyna
Luhre Brann
Tara
Cherish
Sophia Farella
Brett Bartolucci
Sarah Elizabeth Brenhanm