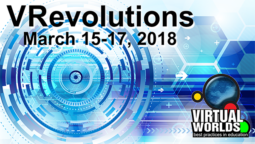 It's finally out! The Call for Proposals for the VWBPE 2018 Conference is OPEN!
What scares you, but intrigues you about the new tech trends that are coming, and how can they be used for our purposes?
What exciting potential do you see in Augmented Reality or Virtual Reality?
How do we bring them into the classroom, the boardroom, the office, the studio – to push the boundaries of what we do thus far?
The three formats for this year's conference presentations are Spotlight Presentations, Hands on Technology Workshops, and Compass Points Roundtable Discussions. Proposals for Exhibits and Immersive Experiences are open now as well. We are a community, and everyone has an opportunity to share, whether you are an educator or have another role. VWBPE is not just for teachers!
The deadline for presentation proposals is January 8, 2018. That seems like a long way off, but it will be here before you know it! Your colleagues want to know what you're working on, and what you're interested in. You want to know what they are working on – encourage the people you know to send in their proposals! The richness and variety of ideas in our widely diverse, global community can be well represented at the Virtual Worlds Best Practices in Education Conference 2018: VRevolutions.