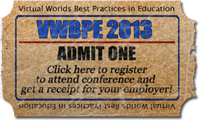 Virtual Worlds Best Practices in Education is a global grass-roots community event which focuses on education in immersive virtual environments. This open conference is organized by educators, for educators, to provide an opportunity to showcase the learning that takes place in this community of practice.
Innovative educators will be sharing their achievements and challenges that they face in enhanced learning technology as well as their vision of future collaborative learning in virtual worlds and games.
The conference will be covered across virtual worlds and will host presentations in Second Life, OpenSim/Jokadia, Unity/Jibe, and Cloud Party.
The call for proposals is closed and and once our reviewers are finished, the conference list will be posted online in the next few days.
We are still looking for volunteers and would love your help. Please sign up on the volunteering page.
We would love to answer any questions and are always available, so please feel free to contact us using the VWBPE contact page
Please join us in the multi-verse as we engage beyond the educational stage.