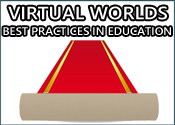 As the great conference machine moves closer to the stage, which opens on the 24th of July, one facet of the preparation ends, and others begin. However, we have not lost momentum!
A Door Closes
First, the call for proposals is closed, and our reviewers will now roll up their sleeves to determine which ones will make it to the program in July. Thank you to all of our submitters! We would not have a conference without you.
A Window of Opportunity Opens
Second, in order to keep moving forward, we need volunteers to steer us to our destination. The need is great this year because we will convene not just in Second Life, but in JokaydiaGrid and Cloud Party, as well. We need your behind the scenes skills to help us shine in the spotlight.
Roll Up!
If you are interested, please fill out the Second to None Volunteers sheet found here: http://vwbpe.org/blog/call-for-second-to-none-volunteers. Help us roll out the red carpet and sign up now!
Be Second to None.
It's an experience you won't soon forget.