All sessions of the VWBPE 2020 Conference are held in Second Life®. All times are in SLT (Pacific Time).
You may access this time zone converter for your local time: http://www.timeanddate.com/worldclock/converter.html.
Add these events to your personal calendar! To add all VWBPE conference events to your calendar, scroll down to the bottom of the calendar, find the "Subscribe" button and click on it. You will find options to add to your Google, Outlook or Apple calendar. To add individual events, click the event and find the "Subscribe" button on that page. You don't have to miss any events at VWBPE!
---
Note: Daylight Saving Time
In most of the United States and Canada, Daylight Saving Time is in effect as of 8 March 2020. Is your location affected? Check this page to find out when (and if) Daylight Saving Time begins for you. The Spring/Fall time change occurs throughout March and April, if at all, depending upon your location.
---
Mar
15
Sun
2020
Friends of the Library Selfie Portraits Activity

@ Community Virtual Library in Kitely
Mar 15 @ 01:00 PM – 02:30 PM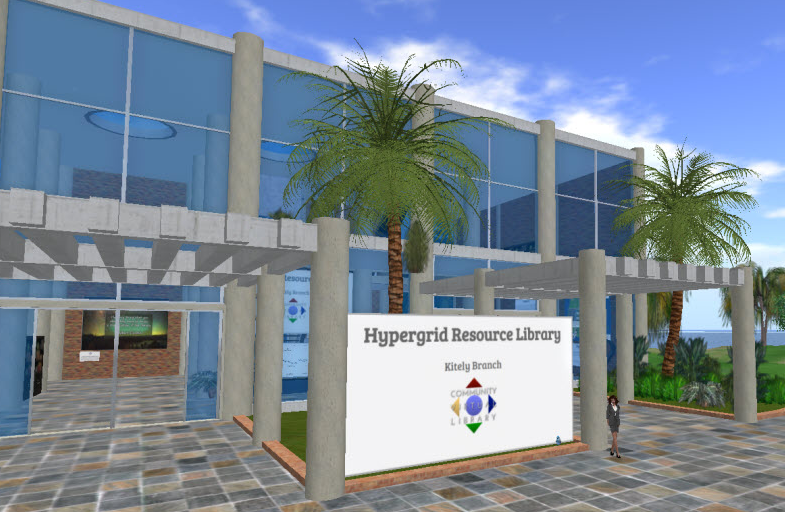 Join host Bethany Winslow to create a selfie for the Friends of the Library wall at Community Virtual Library location in Kitely! This activity was designed as an Open Educational Resource that allows a new event organizer to provide visitors with an easy building project for a more engaging event. Having content with pre-built instructions and resources to give to your own participants makes it easy for you to replicate this activity. This is especially useful for busy educators who are newer to hosting virtual world events.
Access:
We'll meet in front of the Hypergrid Resources Library on the Cookie II region of Kitely. You can use an OpenSim hypergrid enabled account or a Kitely account. Here is the CVL hypergrid address – grid.kitely.com:8002:Cookie II (NOTE: Kitely are virtual worlds "on-demand". You may get a pop up that the teleport has failed and the world is being started. This is normal.)
From the welcome center on Cookie II, use the local teleport to the Hypergrid Resources Library. Here are some short tutorial videos that may help you:
Mar
28
Sat
2020
You Don't Have To Go To Space for Effective PD!

@ VWBPE Lecture Area A
Mar 28 @ 09:00 AM – 09:50 AM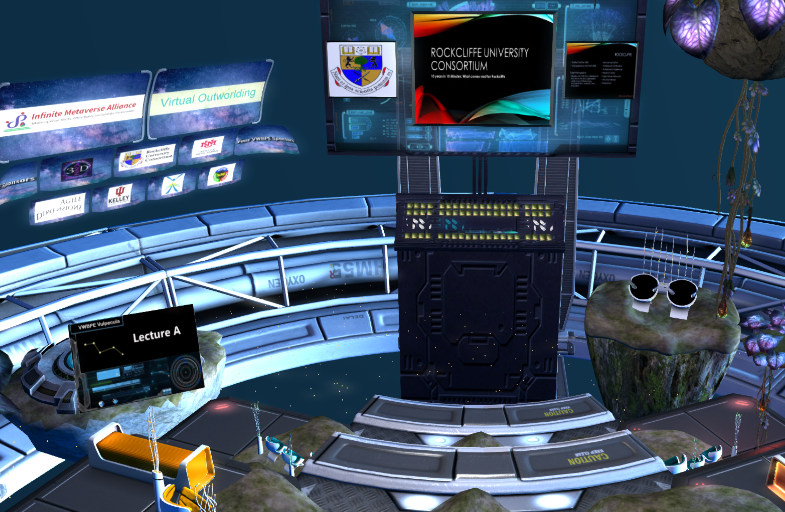 Speaker: Becky Adams / Elli Pinion, University of New Mexico
I will share findings of my research with a small group of K-12 teachers who participated in an online professional development initiative. Issues regarding the quality and effectiveness of professional development for K 12 teachers were addressed by the strengths of an online environment: choice, community building, and extended learning over time. Our efforts at UNM to support Online Instructors with PD, informed by this research, and how this can inform the use Virtual World approaches.
To introduce a researched based model for effectively using online tools to support PD.
To connect these findings to challenges they have in supporting PD in their field while building COP
Accessibility: Speak easy HUD
Virtual Reality in Education: Intentional Immersion

@ VWBPE Lecture Area A
Mar 28 @ 03:00 PM – 03:50 PM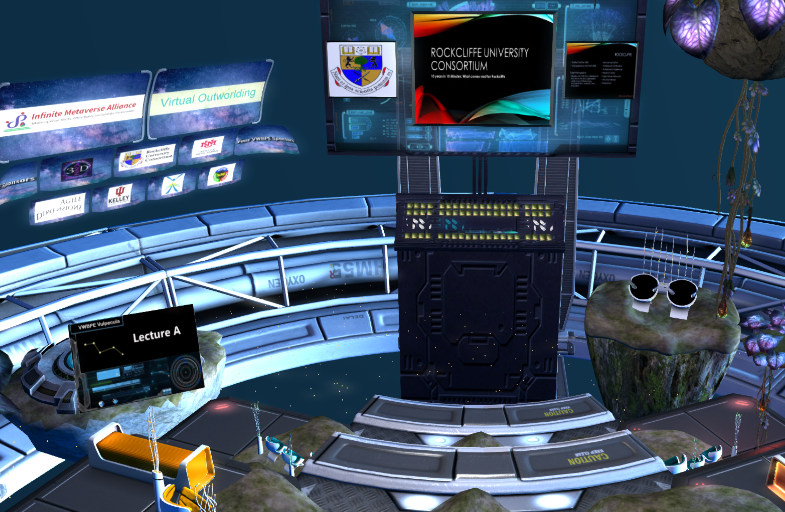 Speakers: Valerie Hill / Valibrarian Gregg, Community Virtual Library; Bethany Winslow / Bethany Winslow; Marie Vans / Amvans Lapis.
Virtual reality offers opportunities and challenges that impact education (both on head-mounted displays and desktops) for deep learning. Because educators cannot be trained to utilize all of the current virtual reality tools entering the market, professional networking is essential for identifying best practices. The gaming backchannel app DISCORD will be optionally used during this session for interactivity.
Participants will investigate the advantages and disadvantages of various VR spaces.
Participants will be given specific examples of critical thinking in VR spaces.
Accessibility: Speak easy HUD tool